Free shipping on orders over $99
The injury that nearly ended Tim Horan's career & his amazing comeback
Tim Horan is a Wallaby legend whose career was almost cut short by a terrible knee injury he suffered in the prime of his career. He had burst onto the international rugby scene as a 19-year-old centre in 1989, along with his childhood friend and centre partner Jason Little. Together they were part of Australia's first World Cup winning Wallaby team in 1991 when Australia beat England 12-6 at Twickenham.

The injury
In 1994 when he was just 24, Horan suffered a shocking knee injury playing in the Super 10 final for the Queensland Reds against the Natal Sharks in Durban. It was said that he broke just about everything that it was possible to break in his knee and that only skin kept the bottom and top of his leg together.
Horan tore both the cruciate and medial ligaments in his knee, as well as the cartilage. He also dislocated his patella, which somehow ended up behind his hamstring. Many feared that such a serious injury would end his career.
It took him more than a year of intensive rehabilitation to cover. He even had to learn to walk again. Knee surgery and rehabilitation back in the mid-1990s was nowhere near as advanced as it is today.
What many Wallaby followers didn't know at the time is that Horan had verbally agreed to defect to rugby league before the 1994 Super 10 final. He was set to join the North Sydney Bears, but his shocking knee injury put paid to those plans. A contract was never signed as the Bears saw the extent of his injury. Horan's knee injury was a blessing in disguise for Australian rugby.
The comeback
He worked incredibly hard to get back on the field. His main motivation was to help Australia defend the World Cup in South Africa just over twelve months later in 1995. He managed to do that but the tournament came too soon for him. Understandably he wasn't back to his best after such a major injury, no matter how hard he'd worked. Australia bowed out in the World Cup quarter finals that year after being beaten by England.
But Horan continued playing for the Reds and Wallabies for five more years, peaking at the 1999 World Cup in Wales where he was named player of the tournament. He played the best rugby of his career at the age of 29.
The Wallabies also won their second World Cup that year, beating France 35-12 in the final. The win saw Horan join an elite group of players to have won multiple World Cups, which included his childhood friend Jason Little as well as the captain of the 1999 Wallabies, John Eales.
Before he even got to the final Horan had to overcome a severe bout of gastro to play in the semi-final of the 1999 World Cup, a heart-stopping match that Australia won 27-21 in extra time against the defending champions South Africa.
Horan also won a year's supply of Guinness for scoring the fastest try at the 1999 World Cup in the second minute of the Wallabies' pool match against Romania!
Do you want to boost your weight loss? Try The Healthy Man Meal Replacement!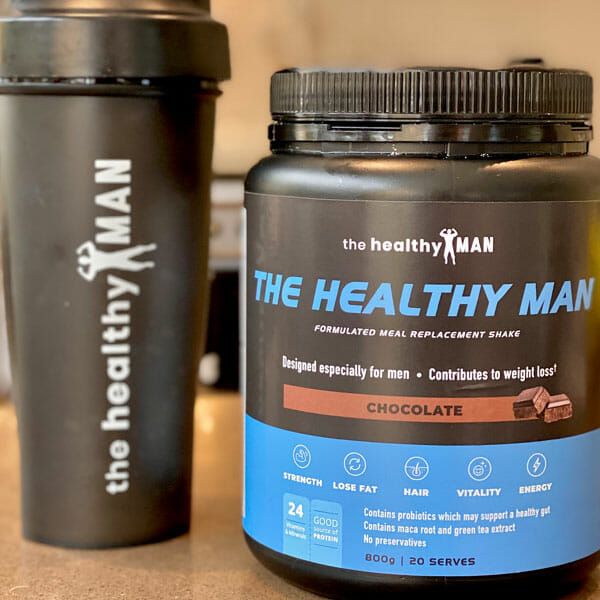 This the perfect low-calorie meal replacement for busy blokes wanting to boost weight loss and improve overall health. It's full of whey and soy protein which means it'll leave you feeling full and satisfied and keep you going till your next meal.
If you want to shift some kilo's, look no further than The Healthy Man's Meal Replacement!
The Healthy Man Meal Replacement will:-
Enhance fat-burning ability
Improve gut health
Reduce beer belly
Increase stamina
Increase muscle strength
Increase energy, vitality and overall health