Free shipping on orders over $99
Meal Replacement Shakes – The How and Why
By Dietitian Mark Surdut, APD AN
Let's start with what a Meal Replacement Shake, such as The Healthy Man Meal Replacement actually is. How does it differ from a protein shake, or a milkshake?
What is a Meal Replacement Shake?
What is a Meal Replacement Shake?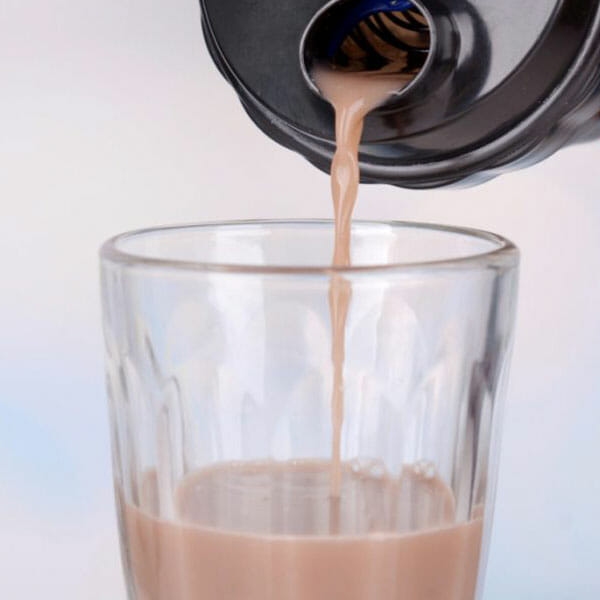 Meal Replacement Shakes are liquid sources of nutrition, ready to drink or powder formulations. They often contain protein, around the amount of a small steak, varying amounts of carbohydrate, 0-10grams of fat, better ones contain fibre too, and they are fortified with most vitamins and minerals at around 25% to 30% of the Recommended Daily Intake (RDI).
The Healthy Man Meal Replacement has more, around 40% to 50% of the RDI for many vitamins and minerals. What makes The Healthy Man Meal Replacement a suitable and more balanced option for many dieters, is that, unlike many other weight loss shakes, this product is not lacking carbs. In fact, it has a very "normal" level of carbohydrate – not too much, not too little, just about right – and, in my opinion, this meal replacement is consistent with an optimal weight loss plan. As a matter of fact, it would be quite common for me to recommend just that amount of carbohydrate in a meal for a bloke trying to reduce weight, without a sense of deprivation.
What about other "shakes"?
A "protein shake" is often just that: a source of protein, but not a BALANCED meal. A milkshake or flavoured milk drink is certainly not a complete and balanced drink, and usually (unlike The Healthy Man Meal Replacement) has PLENTY added table sugar. Essentially, a meal replacement shake must tick a bunch of boxes.
How do they work?
As a Nutritional Professional, how did I first come across the idea of meal replacement shakes? I will share an interesting tale. I started my career as a clinical dietitian working in areas of critical care. Patients in these environments are sick – and unable to feed themselves or even be fed, as they are often not conscious. How do they remain nourished, you may well ask? Patients are fed (often through feeding tubes such as nasogastric tubes) fortified, balanced liquid formulae which resemble food, in that they are a healthy balance of the nutrients usually found on an optimal plate of food.
I used to often think to myself how ironic it is that someone unable to eat, and perhaps even unconscious (such a sedated ICU patient), is BETTER nourished than a "healthy" fully-functioning bloke! That was my introduction to balanced liquid nutrition. Meal Replacement Shakes, such as The Healthy Man formulated meal replacement shake, is based on a similar principle of: How do we replace food with an easy to take liquid meal?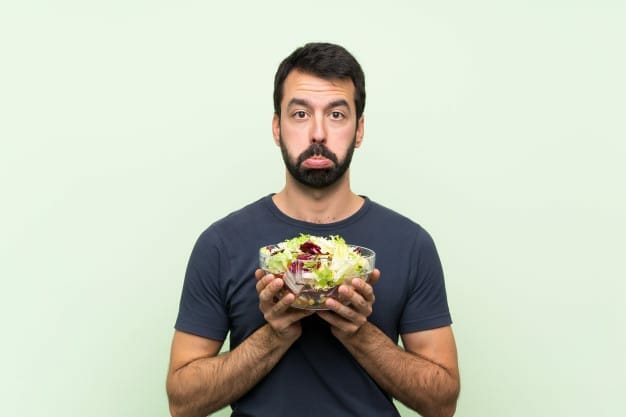 The psychology of eating:
Are you familiar with food choice anxiety? I certainly come across it a lot as a dietitian. You see, sticking to a diet for some blokes can be stressful. What to make, how to make it, and how to ensure its readily accessible.
An all-in-one liquid meal essentially removes the fuss and much effort of meal prep. It is a bit of a "no-brainer". Furthermore, meal replacements also assist those of us that simply feel "time-poor". Let's face it, us blokes complain a lot about how little time we must focus on non-office matters like our "temples" (aka bods). Millions turn to pre-packaged diets for this reason. It is a real help to have someone prepare a meal for you – enter the Healthy Man! Let's face it – many blokes want the work (of balanced nutrition) done for them. It's not just about laziness, but about time management.
Managing Food Intake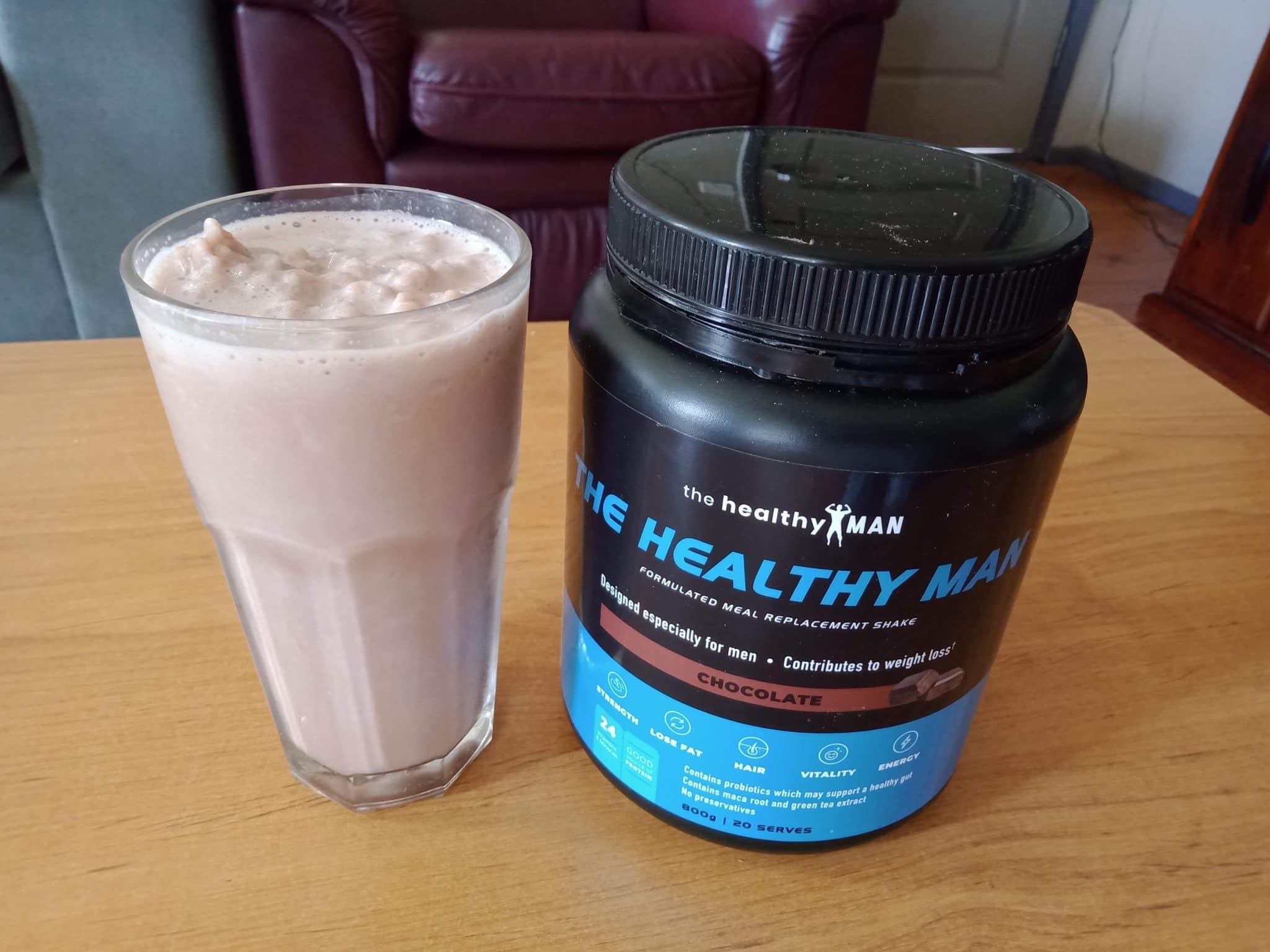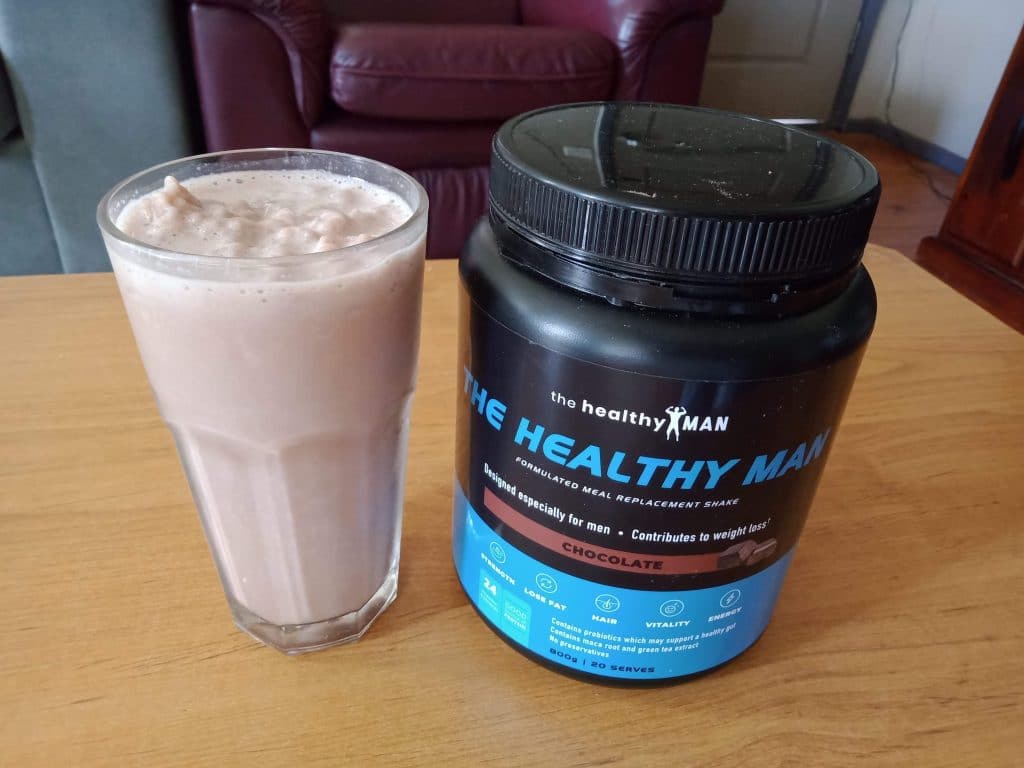 So, the goal of such products is to easily replace higher calorie foods in a convenient and tasty option. There really are many advantages to a meal replacement shake: One that I believe is key is it assists with allowing your food intake to be more regimented (to use an army term). You see the way the body works, if the diet is built more structured, if there is more routine and consistency, that is a far more favourable environment for weight loss than an erratic hap-hazard way of eating facing so many blokes.
You may be thinking, but how CAN it work? How can a drink replace a solid meal? Yes, a large solid meal (steak, chips and veg) may look more filling, but at a physiological level (ie. how the body functions), in fact, the shake can supply the body with the same raw ingredients (even fibre) in a liquid form and allow for satiety (fullness too). It takes a little getting used to, like anything new, but sipped slowly, savoured, and appreciated (The Healthy Man Meal Replacement has an awesome taste), and allowing 10-20 minutes for the product to start getting absorbed into the body, you will come to realise that you've eaten enough. Yes, true, it is likely lower in calories than a heavy, solid meal, but that is one of the reasons it works so well, it is a calorie-controlled meal.
All about Flexibility
Another advantage of weight loss shakes is their flexibility! You may choose to replace one a day or two meals, or perhaps use it on days that you are particularly time poor. For effective weight loss, I would be using daily and replacing 1 or 2 meals. Perhaps consider your regular brekkie, and packed lunch, and then sit back in the evening sipping the shake. You will feel in control of your own wellness destiny, and some of you will experience less reflux, burping and bloating from over-sized plate/s of food. How much more sensible does it sound going to sleep on a stomach filled with liquid balanced nutrition rather than heading to bed stuffed like a huge Christmas turkey.
Here is another idea: Do you sometimes find yourself hungry at lunch…and following the herd to pick up a pie and Coke? You would be better nourished and satiated if you chose The Healthy Man Meal Replacement. Or perhaps, you feel you have no time to eat in the morning, and a banana on the go just doesn't cut it. You're starving an hour or two later, then The Healthy Man Meal Replacement would be the best breakfast option for you.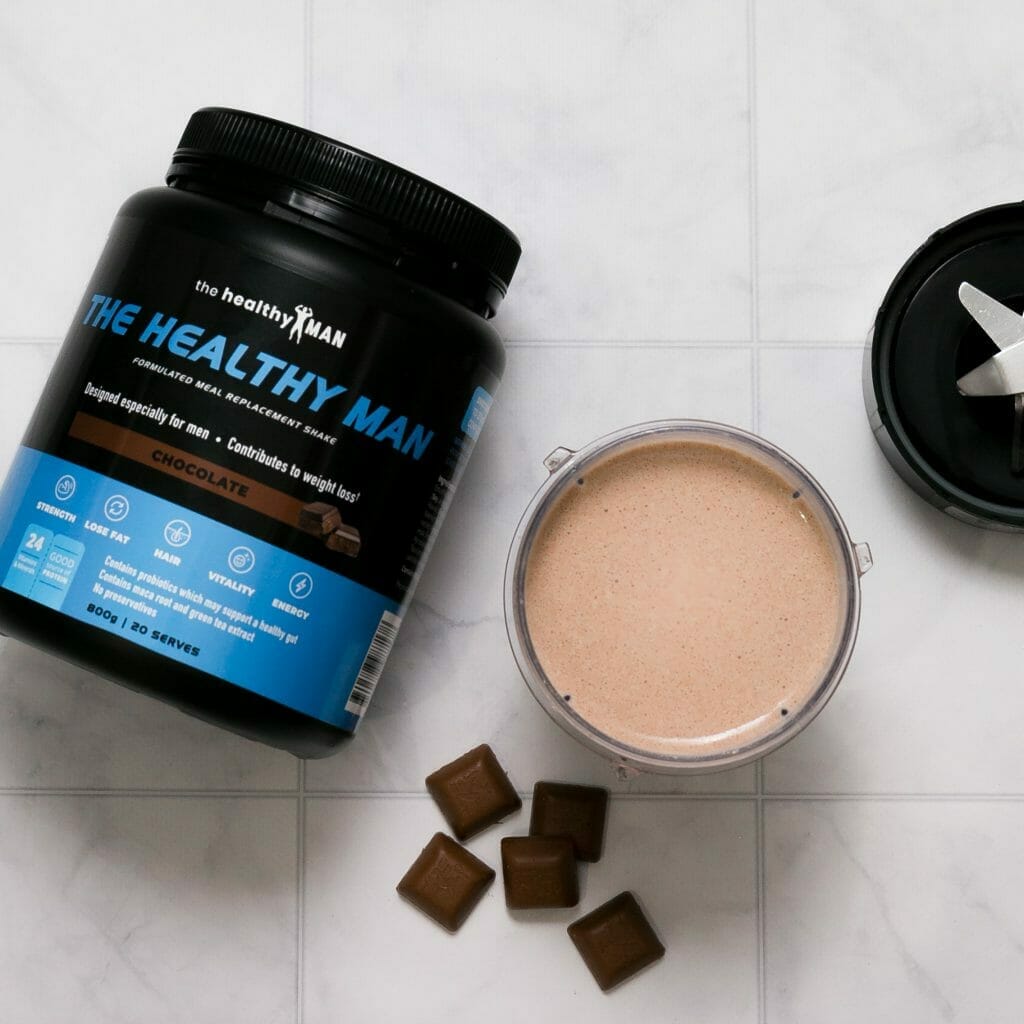 The great thing about The Healthy Man Meal Replacement in fact is that it is not extremely low in calories. Rather it is packed with nutrition with around double the caloric load of some diet meal replacement products. You see, Very-Low-Calorie-Diets (VLCD), which typically provide less than 800 kcal a day, have little evidence to support their efficacy, with exception perhaps of sickly patients hospitalised with Congestive Cardiac Failure coupled with morbid obesity, often requiring extreme and life-saving dieting. However, VLCD shakes are not made to last, unlike The Healthy Man Meal Replacement which is a more sustainable weight loss product, in my opinion.
Very Low Calorie Diets
Side effects of the more extreme shakes include risk of gallstones, weakness, light-headedness, hair loss and more. Relax men, you do not lose your hair on The Healthy Man Meal Replacement it's not a VLCD starvation course, in fact, your hair may benefit from the added micronutrients and quality protein sources. Your heart and prostate may thank you too as it contains Lycopene, an antioxidant that supports a healthy heart and prostate. It also contains more fibre than many other similar products and contains probiotics, for support of your gastrointestinal system. The Healthy Man Meal Replacement even contains some green tea, used as far back as 5000 years ago, and which, according to the prestigious Mayo Clinic group, may be associated with a reduced risk of heart disease and lower blood fat levels.
The Benefits of Meal Replacements
So, The Healthy Man Meal Replacement works because it helps steer you away from bad food, fills you with good nutrients (and even some special extras) and contains sensible amounts of the essential macros Protein and Carbohydrate.
Keeping a large tub of this healthy stuff in the kitchen or office in clear eyeshot, also acts as a gentle reminder that you're on a mission: You have an Action Plan, you are in control, you're on your way to becoming healthier and perhaps a little slimmer too!
The Healthy Man Meal Replacement doesn't only supply the meal (in the form of a shake) but provides heaps of behaviour modification and healthy eating support too – check out the website for plenty of healthy-man information.
Any weight loss product should be used as part of a comprehensive weight management program.
5 kilos down already with the Healthy Man Meal Replacement and Jimmy is loving his new routine
By using The Healthy Man Meal Replacement every morning for breakfast and as an afternoon snack, Jimmy Lokeni from Sydney has lost 5 kilos in just 6 weeks and is well on his way to getting to his goal weight.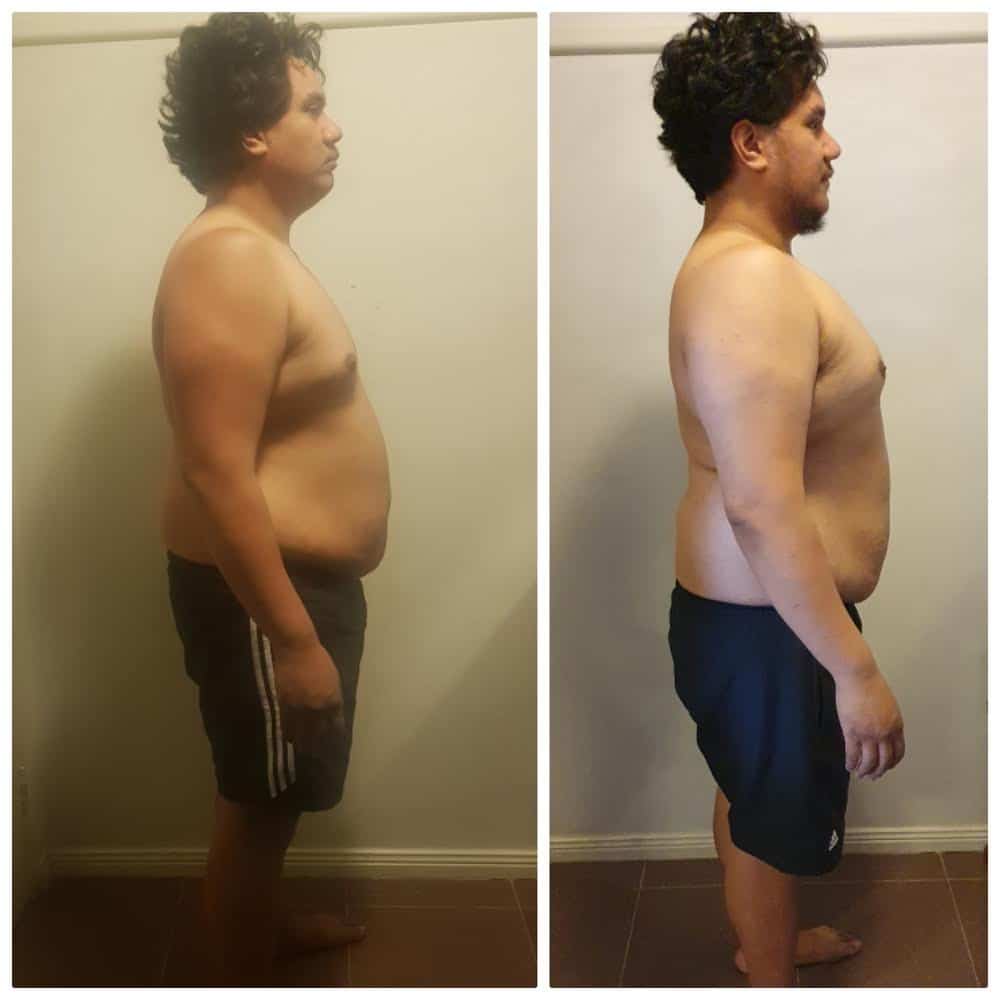 Find out more about Jimmy's results here