Healthy Man Meal Replacement gets the thumbs up from Nutritionist – 'Your mates won't recognise you!'
For men wanting to take some control of their health and weight, The Healthy Man Meal Replacement has everything a bloke needs to take him on his own journey to better overall health and weight loss.
Available in both Chocolate and Vanilla Flavour, it's the perfect start for men wanting to boost their weight loss and improve overall health and vitality. What's more, it tastes amazing and blokes are loving it!
Find all about The Healthy Man Meal Replacement and how it can help you below!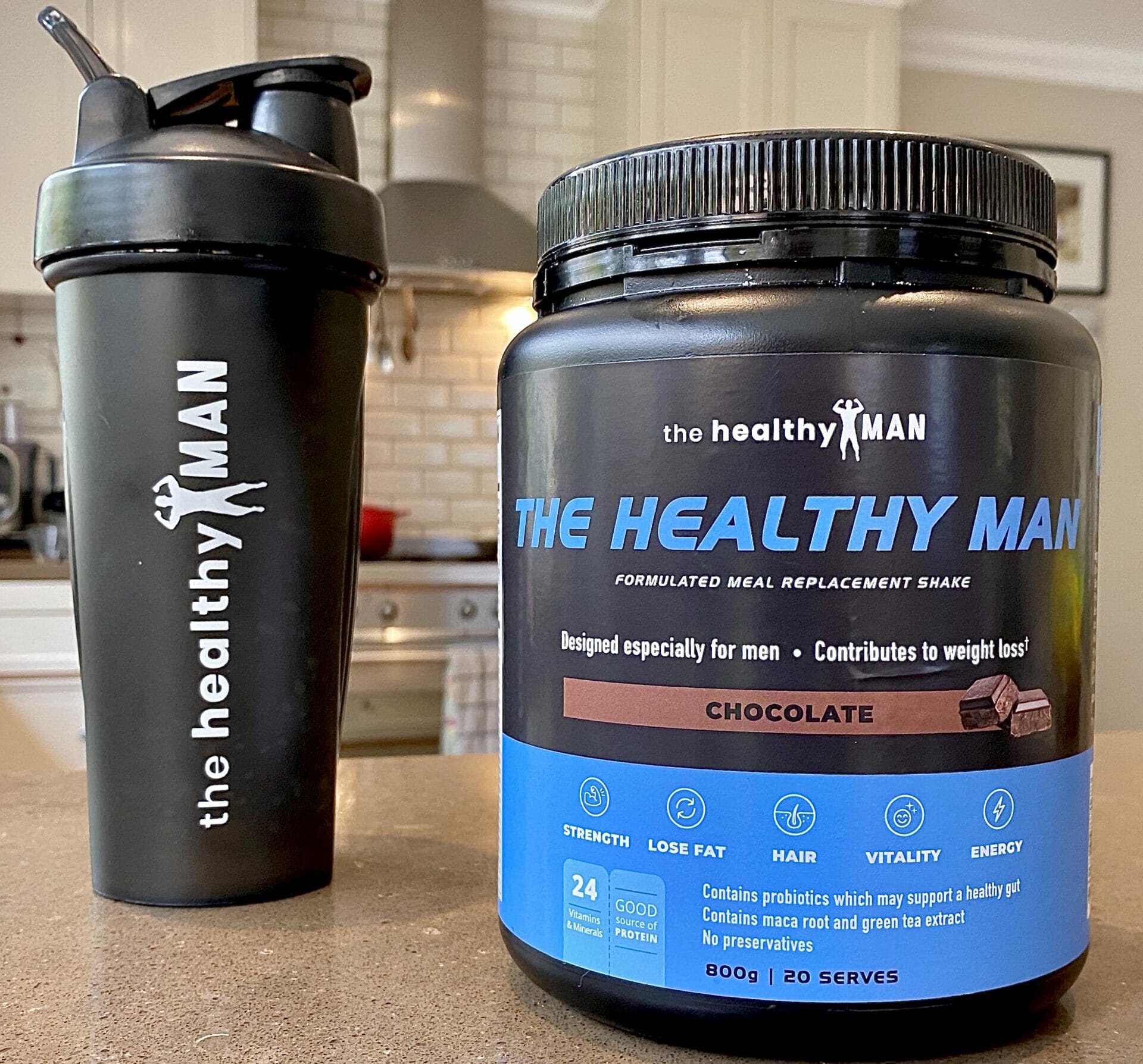 About The Healthy Man Meal Replacement
We know from extensive research that men want a meal replacement that's going to reduce belly fat (get rid of the beer belly!) improve gut health and increase their stamina and muscle strength.
Our amazing team of nutritionists have come up with a formula for the Healthy Man Meal Replacement that ticks all those boxes!
A complete meal
This is a delicious and complete Meal Replacement  (just add milk for a shake and go, or extra fruits and veggies to have as a smoothie) that is low calorie and will help with weight loss. Not only that, it is jammed with vitamins and minerals and superfoods that will improve strength, vitality and boost energy. With all the added nutrients it can even help keep grey hair at bay!
Full of Protein
The Healthy Man meal replacement shake will fill up the hungriest of men! It has a whopping 24.2 grams of high-quality whey protein which means that it will keep men fuller for longer.
It's perfect for busy men on the go!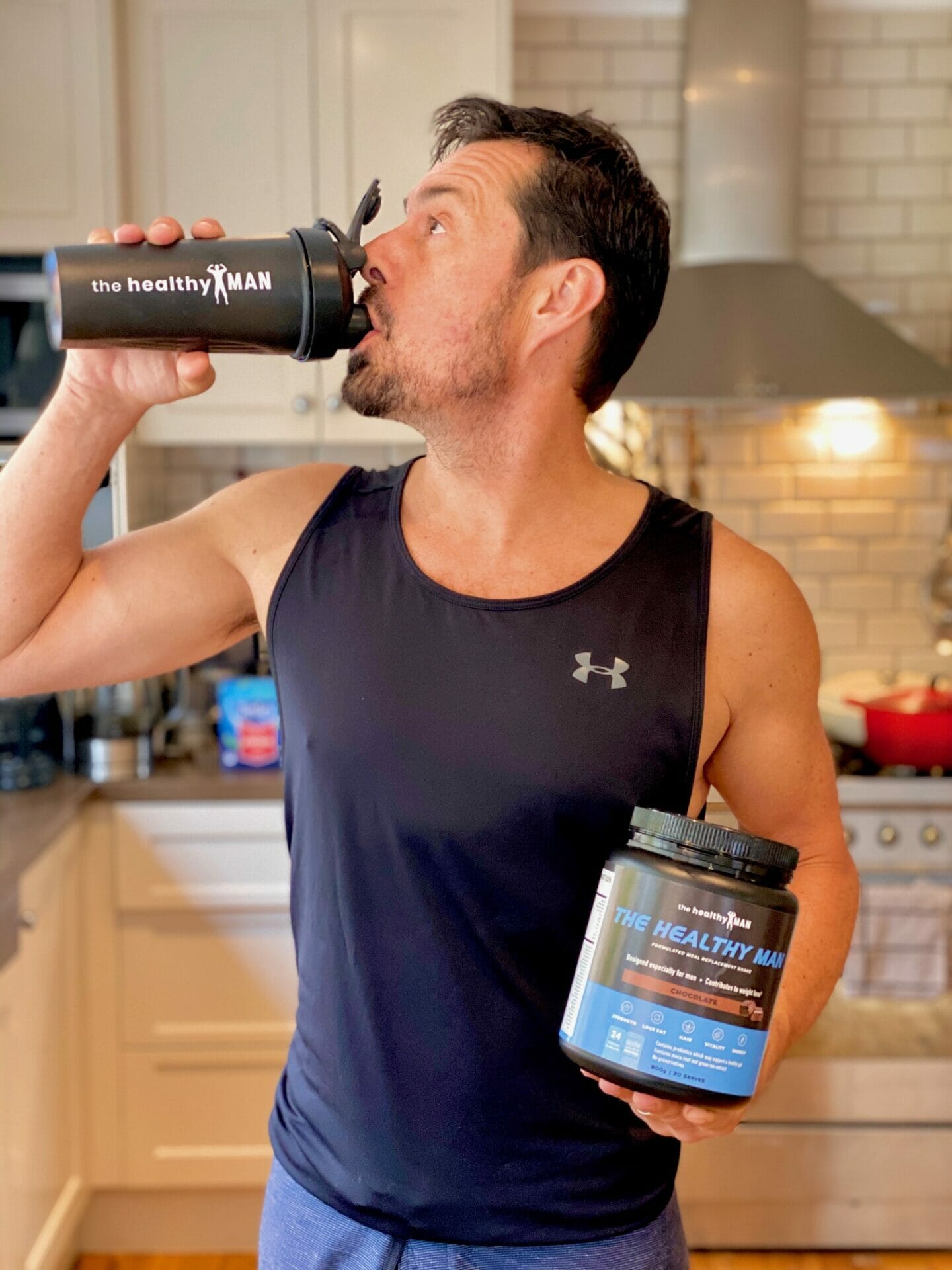 What does the Nutritionist say?
Mark Surdut is a is an Accredited Practising Dietitian and Nutritionist and member of Dietitians Australia. He is a passionate advocate for men's health, diet and overall wellbeing. He has well and truly given the Healthy Man Meal Replacement the thumbs up!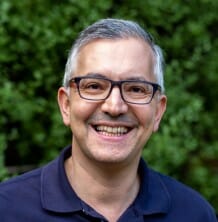 Mark says, "Nutritionally this is a great product. Well balanced, unlike so many diet shakes, this meal replacement drink is nutritionally solid – it's not radical, it's not extreme in its mix of macros, it's BALANCED – it has some carbs, naturally derived from wholesome dairy milk (NO sugar added, NOT in ANY funny form). It has good levels of filling protein and I like that it has a mix of both whey protein and soy protein.
Soy protein is a high biological value (ie. high quality) rapidly-digested protein, with potential roles in reducing risk of heart disease."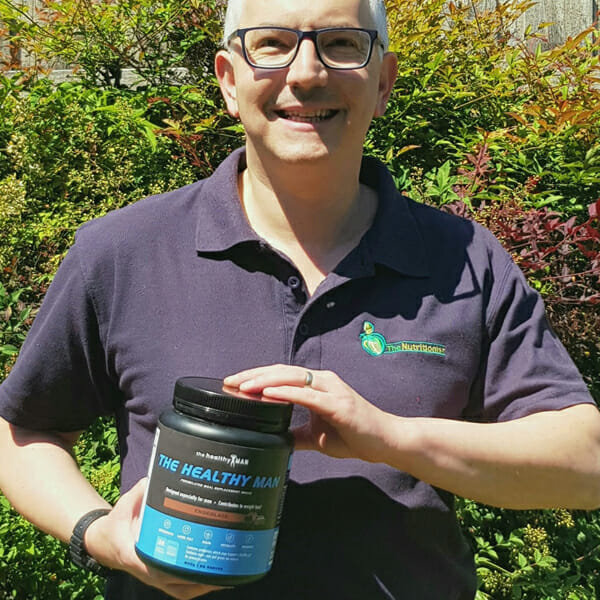 "How much protein? A made-up shake has the protein load of 3.5 hard-boiled eggs!
It has a broad spectrum of micros (vitamins, minerals, trace elements), so it's really complete and in good doses of them too.
The "sugar" listed in the nutritional panel is naturally occurring cow's milk carbohydrate, not sucrose or glucose or fructose.
It has enough fibre to match 3.5 cups of raw broccoli, or 2.5 cups of raw green beans.
Then it has another veggie added inside too, tomato, which has a beneficial anti-oxidant called 'lycopene' and may protect blokes against prostate cancer and heart disease.
For a real kickstart to weight loss and to your work day, and a boost to your nutrition too, the author suggests blending 2 heaped scoops (40g) of The Healthy Man, 1 cup of unsweetened almond milk and ½ cup of your favourite super-veggies such as celery and cucumber.
Your mates won't recognise you!"
And what are Real Blokes saying about it?
Jeff Searle from NSW was stoked to be able to be one of the first to try The Healthy Man Meal Replacement.
Jeff says "I love that it's filling, it keeps me going until my morning snack and I'm not getting those hunger pains anymore. The flavour is really enjoyable and it has a nice smooth consistency. I will definitely continue to drink this every day."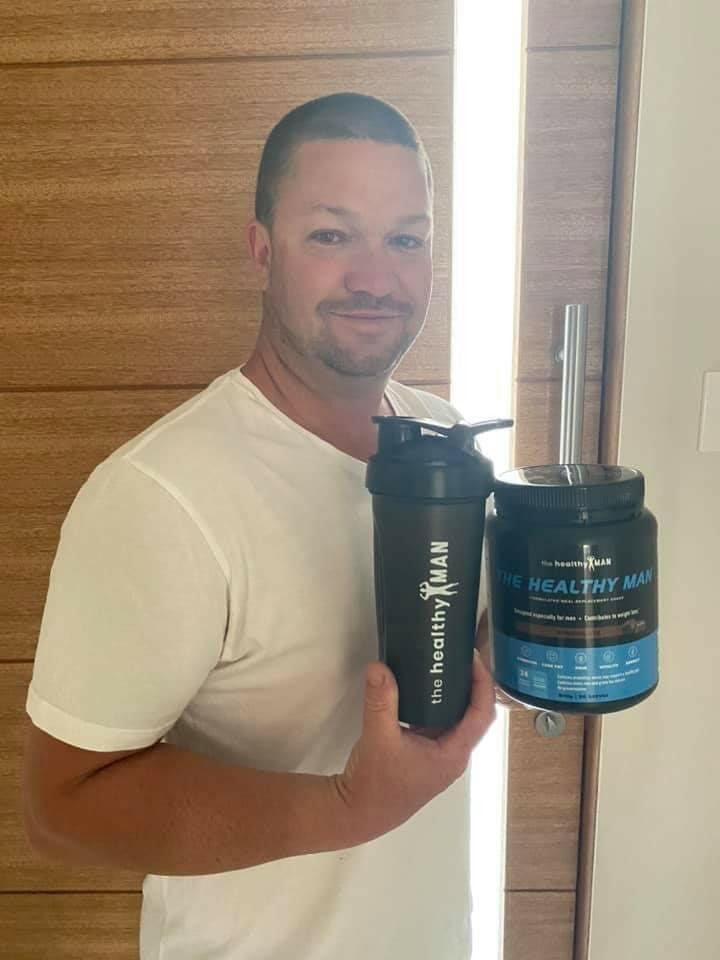 He says, "I leave for work really early and don't like making too much noise in the kitchen by having breakfast, I prepare the night before and add the powder before I leave. It's a great start to my morning and drink it on my way to work."
Dad of 4 Andrew Doubleday from Gympie Qld reckons the Healthy Man Meal replacement tastes just like a thick shake.
"It's delicious, so creamy, it's like a thick shake.  I can't wait to have it for breakfast in the morning and kickstart my healthy life with the Healthy Man!"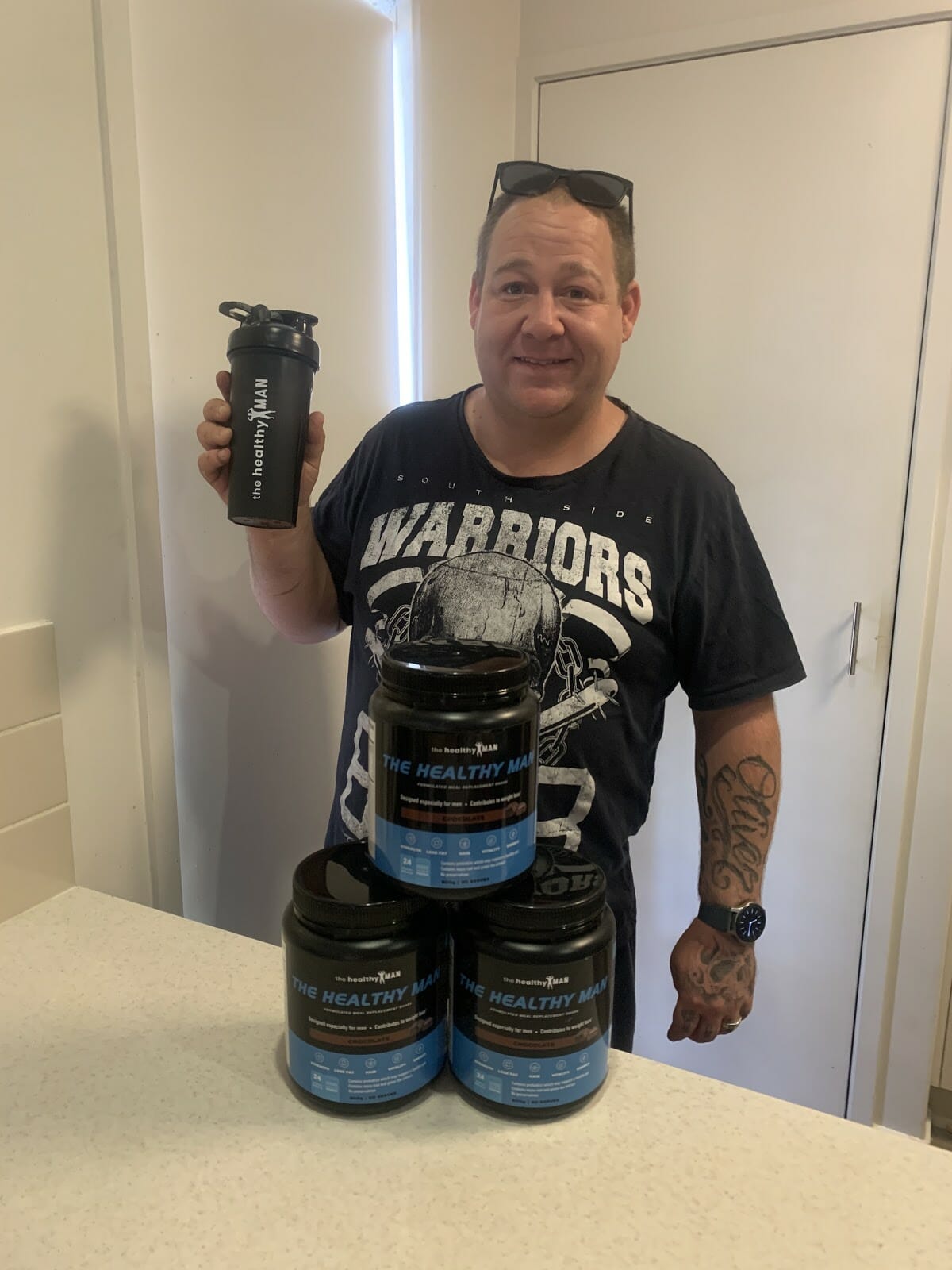 He continues, "It's so filling! I actually feel full. I prefer it plain without adding any extras and I'm really looking forward to seeing the difference using The Healthy Man compared to what I've used previously."

Peter, an Accountant from Sydney is a dad of 4 and grandad of 3 and has already made it part of his routine.
"I'm really liking the flavour of the Healthy Man chocolate shake. The added protein keeps me full and I'm less likely to unconsciously snack throughout the day."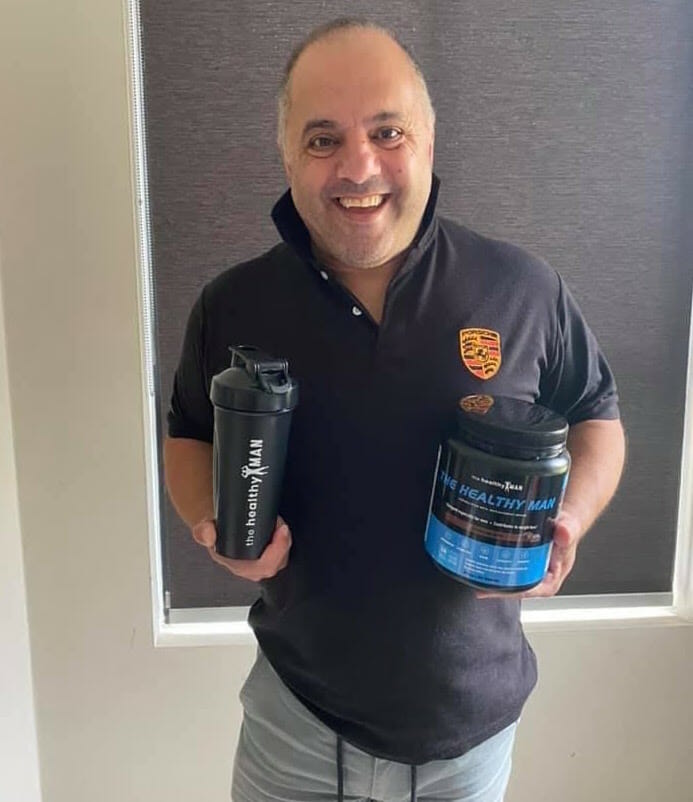 "It has already become a part of my day to day routine."
Ready to get on board the health train, drop some kilos and feel great!