Roast Turkey with Pistachio Stuffing and Cranberry Gravy
Give your Christmas table the WOW factor with this nutritious yet decadent roast turkey. This Roast Turkey with Stuffing Recipe serves 6 and is healthy enough that it means you don't need to miss out on anything this holiday season.
A healthy, nutritious, but still decadent festive family roast. Perfect for Christmas lunch, dinner or even when you're having a special family celebration at any time of the year.
Let the fresh flavours shine through thanks to the good quality fresh ingredients that complement the meat so well.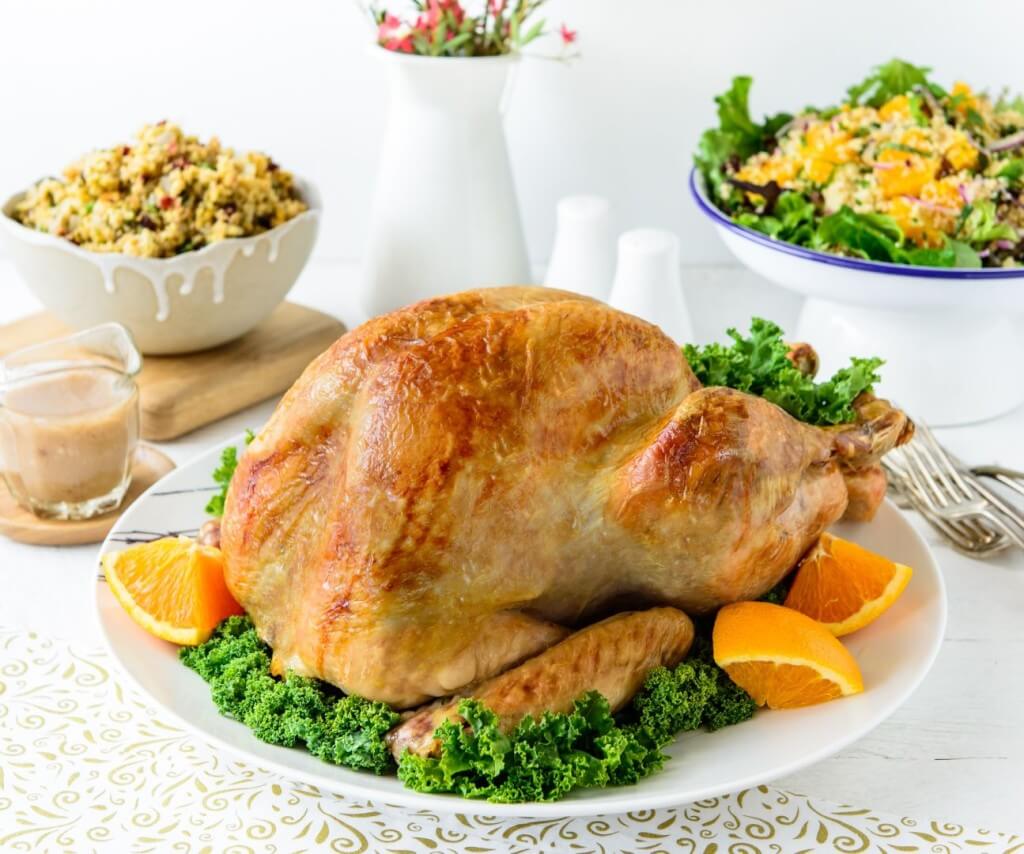 Roast Turkey with Pistachio Stuffing and Cranberry Gravy
Serves: 6
Prep Time: 35 mins
Cooking Time: 120 mins
Ingredients
2 teaspoons extra virgin olive oil
1 chopped brown onion
1/4 cup dried cranberries roughly chopped
2 tablespoons unsalted pistachios roughly chopped
2 cloves crushed garlic
1/2 cup freshly squeezed orange juice
1 cup couscous uncooked
1/2 cup boiling water
1 free-range egg lightly whisked
2 teaspoons orange zest
3/4 cup chopped fresh parsley
Salt and pepper
1 x 3.5kg whole turkey size 35
1 lemon
2 sprigs rosemary leaves
cooking oil spray
1 1/2 tablespoons plain wholemeal flour
1 1/2 cups liquid chicken stock salt reduced
2 1/2 tablespoons cranberry sauce store-bought
Instructions
Roast Turkey
Preheat oven to 200C. Rinse the turkey cavity under cold running water. Pat dry with a paper towel inside and out.
Cut the lemon into wedges and place it in the cavity with rosemary. Tuck wings under turkey and tie legs together with kitchen string.
Place the turkey on a rack in a deep roasting pan, rub with 1 tsp of the extra virgin olive oil and season with salt and pepper. Pour 2 cups of water into the bottom of the pan.
Cover turkey with foil and roast for 30 minutes.
Reduce heat to 180C and roast for a further 30 minutes.
Remove foil from turkey and roast for 45 – 60 minutes more until skin is golden and juices run clear when a skewer is inserted into the thigh. Re-cover if browning too quickly.
Remove from oven and rest for 20 minutes in the pan before moving to a serving platter. Reserve the roasting pan juices to make the gravy.
Pistachio Stuffing
While the turkey is roasting, heat another 1 tsp of the extra virgin olive oil in a frying pan over medium heat. Add the onion and garlic and cook for 5 minutes until soft and translucent. Stir through pistachios and 1/4 cup of dried cranberries. Set aside to cool slightly.
Place 1 cup of couscous into a large bowl. Heat 1/2 cup of the orange juice until warmed through, combine with 1/2 cup of the boiling water and pour over couscous. Stir and cover for 5 minutes to absorb.
Fluff couscous with a fork and combine with the onion mixture, egg, orange zest and 3/4 cup of the parsley. Season with salt and pepper, spoon into a baking dish sprayed with cooking oil spray and cover with a lid or foil.
Place stuffing in the oven as soon as you remove the turkey and bake for 30 minutes while the turkey rests, and you prepare the gravy. If your oven is large enough, you can also bake the stuffing with the turkey for the final 30 minutes of roasting.
Cranberry Gravy
Place roasting pan with reserved juices over medium heat on the stove (you can transfer juices to a saucepan if you prefer). Add the flour to the pan and whisk well to combine. Cook, stirring, for 2 minutes or until the mixture starts to bubble.
Gradually whisk in the stock followed by the cranberry sauce and simmer, uncovered, occasionally stirring, for 5 minutes until thickened.
Taste and season with salt and pepper.
To Serve Roast Turkey with Pistachio Stuffing and Cranberry Gravy
Carve the turkey, dividing it into 100g portions of meat per person. Serve turkey with stuffing, gravy and couscous salad.
Store extra turkey covered in the fridge for 3 days or wrap well and freeze for up to 3 months.
Tips
If your turkey is frozen, ensure it has fully thawed before cooking. A 3.5 kg turkey will take approximately 2-3 days to thaw in the fridge.
Check the cavity of the turkey before cooking; some turkeys have neck inside.
Roast Turkey with Pistachio Stuffing and Cranberry Gravy Nutritional Information Per Serve:
Energy: 2249 kJ / 538 Cals
Protein: 44 grams
Fibre: 5.3 grams
Total Fat: 14.9 grams
Carbs: 53.6 grams
Saturated Fat: 3.6 grams
Total Sugar: 16.6 grams
Free Sugar: 10.2 grams
Have you tried the Healthy Man Meal Replacement?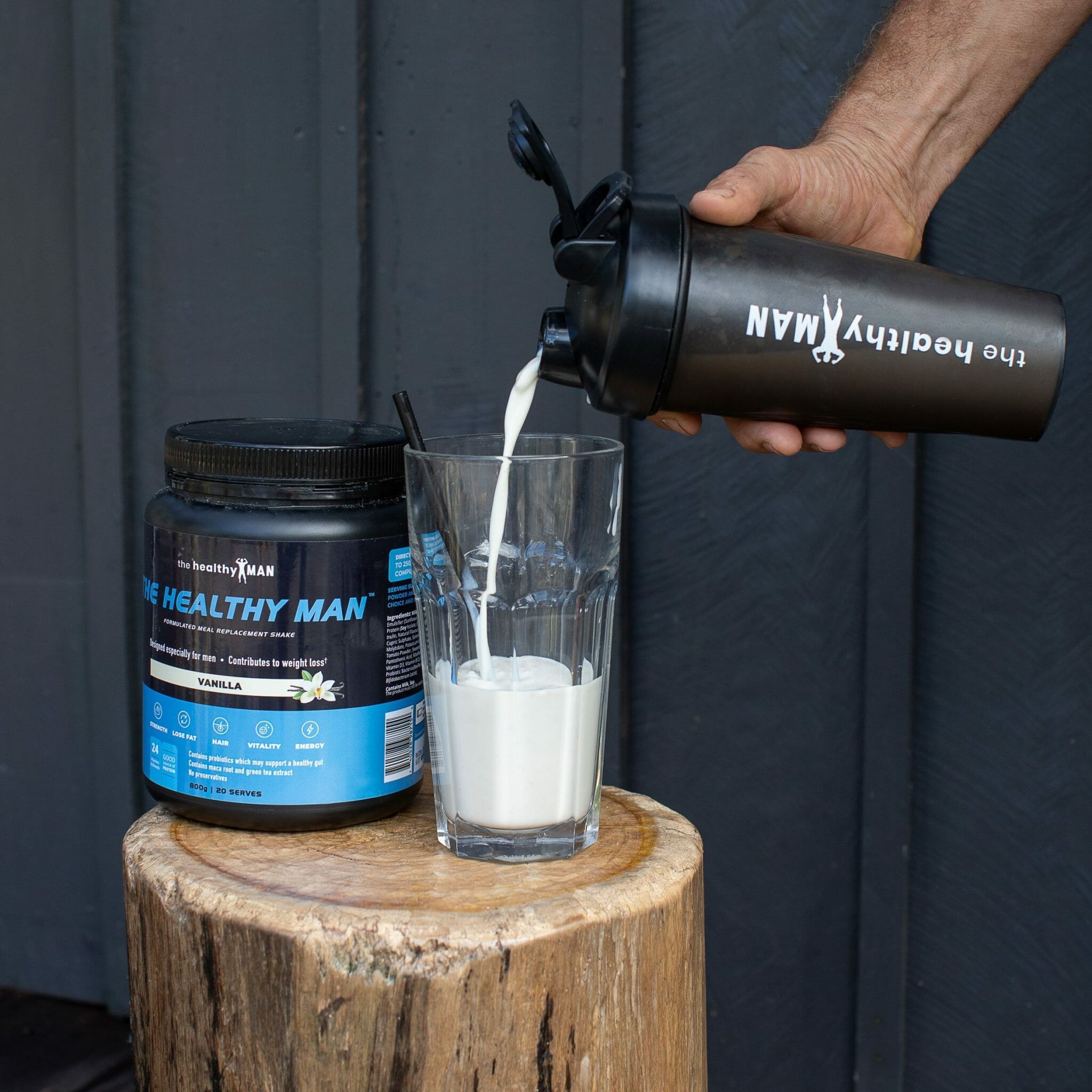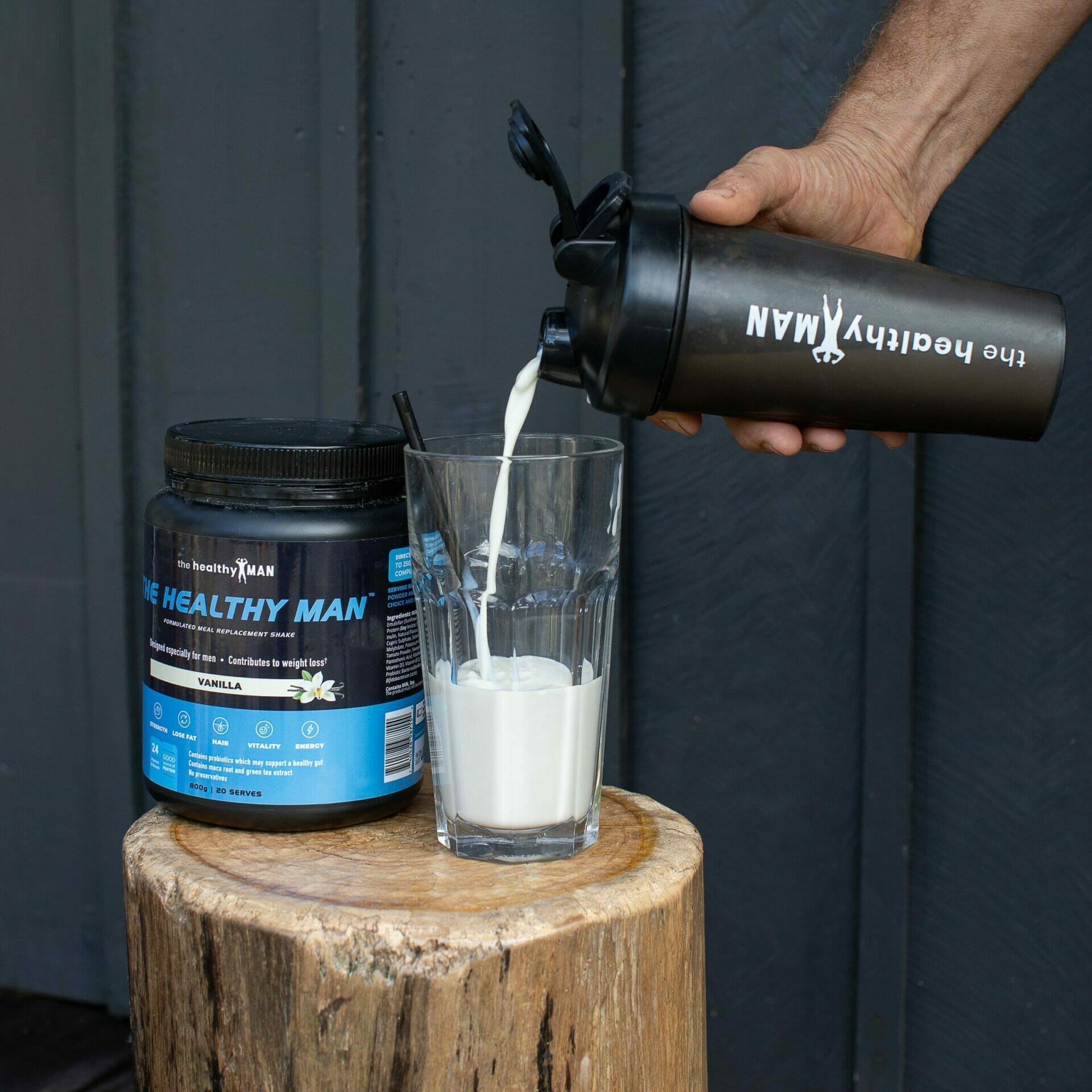 It's the perfect low-calorie meal replacement for busy blokes wanting to boost weight loss and improve overall health. It's full of whey and soy protein which means it'll leave you feeling full and satisfied and keep you going till your next meal.
If you want to shift some kilo's, look no further than The Healthy Man's Meal Replacement!
The Healthy Man Meal Replacement Shake is available in Chocolate and Vanilla and will:-
Enhance fat-burning ability
Improve gut health
Reduce beer belly
Increase stamina
Increase muscle strength
Increase energy, vitality and overall health