Introducing our FIRST Motivating Man: Warren Magill!
We know that it can sometimes help you in your weight loss and health journey if you can see the real progress and sometimes failures of someone else on the same journey as you. To help with this we have our very first Motivating Man Warren Magill.
Warren is a busy dad to 5 gorgeous kids from Newcastle, NSW, who will be sharing his ups, downs, tips and advice in The Healthy Man Facebook Group to help inspire, motivate or just relate to other men also on a similar journey.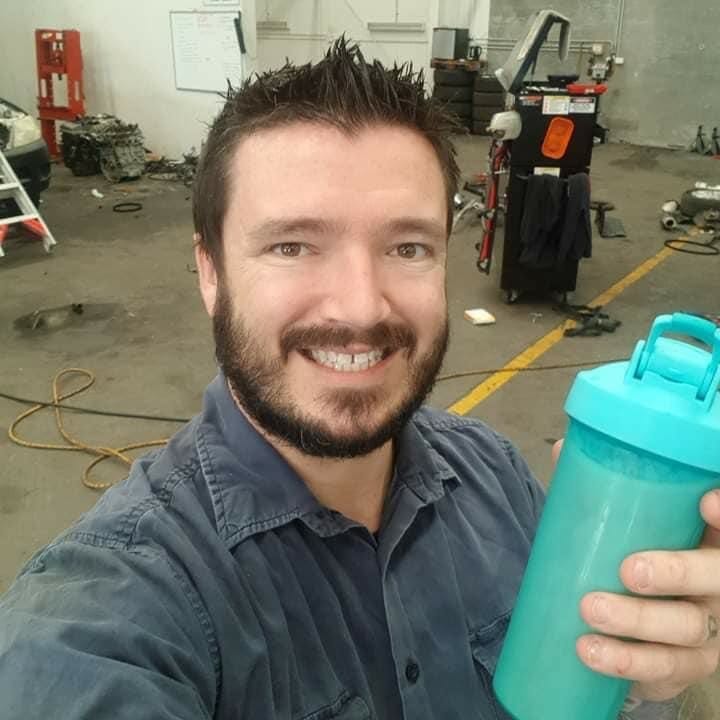 Motivating Man: Warren Magill
"My name is Warren Magill, I am a very busy father of 5 beautiful kids.
My main goal for trying to get healthier is my children, I want to be around for them as they get older and being that I come from a family that has weight and heart issues, anything I can do to prevent this and maintain a healthy lifestyle so I can be there for them is my main aim.
I'm choosing to take the better option when it comes to food. If I feel snacky, I'll grab an apple instead of a pack of chips, instead of a pie for morning tea, I'll opt for my Healthy Man Meal Replacement shake. I am also watching my portion sizes as I often don't eat enough through the day and then have huge meals at night, so I am working on balancing this out.
My hobbies include tabletop wargaming, modifying cars and spending time with my family and friends."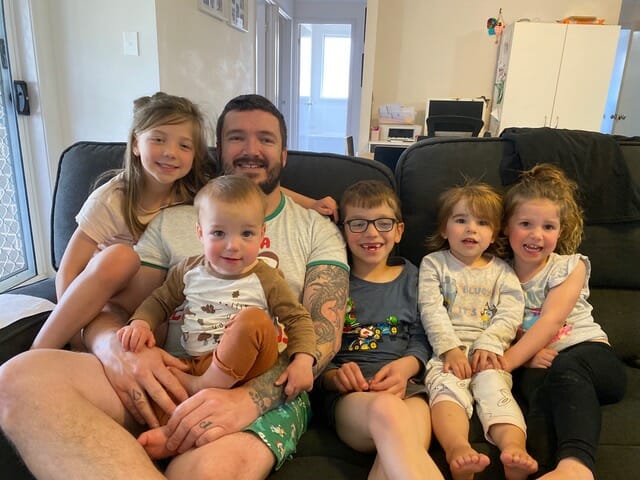 He loves The Healthy Man Meal Replacement shake!
Motivating Man Warren has tried other men's shakes but found them too gritty but he loves including The Healthy Man Meal Replacement in his daily routine.
"That was really good! Other men's shakes have been really gritty but this was smooth and really yummy. Kept me full for ages too, can't wait to have another one tomorrow morning!"
Keen to shed some kilos and improve his overall fitness Motivating Man Warren can't wait to share his journey with The Healthy Man community.
"My diet is OK, but some days are better than others. I need to do less late-night snacking!"
The Dad of five is keen to up his exercise but like many dads finding the extra time is a bit of a stumbling block.
The Healthy Man Meal Replacement is helping Warren at lunchtimes instead of buying an unhealthy takeaway or skipping it all together.
"It's quick, easy and nutritious and tastes good, it keeps me full for a long time."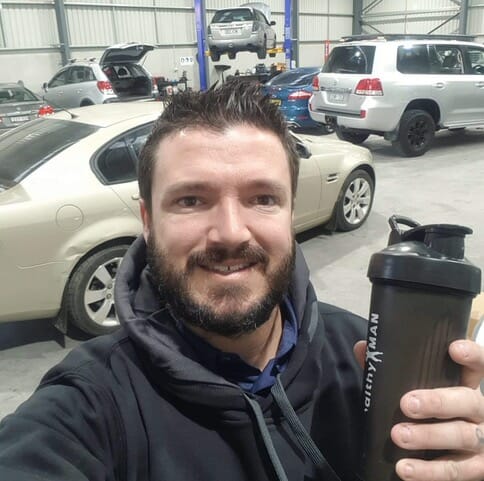 Quick Q&A with Motivating Man Warren:
Name: Warren Magill
Age: 36
Location: Newcastle, NSW
How do you see your current health? Are you happy with your health and weight or is there anything you would like to change?
I'd like to shed a few kilos and increase my fitness.
Do you think you have a healthy diet?
Some days are better than others.
Do you do any formal exercise?
No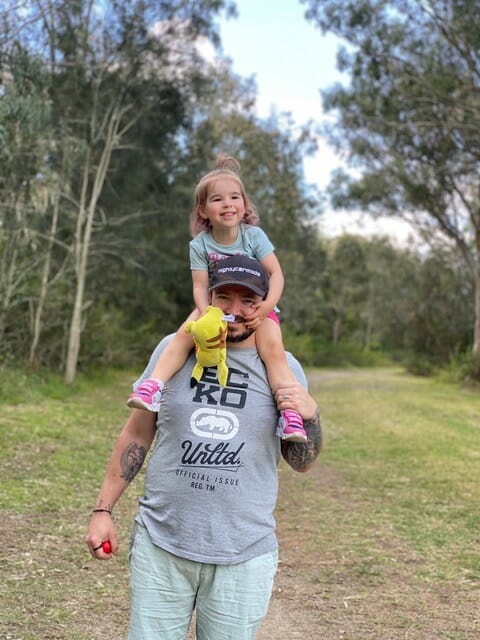 Do you have any bad habits you'd like to change?
Less late night snacking.
Would you say you have a healthy lifestyle?
Moderately.
What would you like to change about your lifestyle, if at all?
I'd like to exercise more, but time is an issue.
How do you think The Healthy Man Meal Replacement will help you with your health goals?
It's quick, easy and nutritious instead of buying takeaway or skipping meals.
What did you like about it. ie taste, ease of use, filling?
It tastes good, it's easy to make and it keeps me full for a long time.
How do you think you will use it as part of your routine?
To replace lunch at work and on the go.
We can't wait to see Warren's journey and if you want to follow along with our Motivating Man join The Healthy Man community TODAY!
Try The Healthy Man Meal Replacement shake like our Motivating Man Warren TODAY!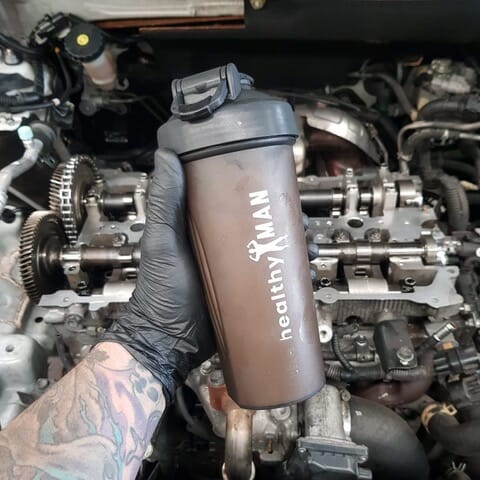 It's the perfect low-calorie meal replacement for busy blokes wanting to boost weight loss and improve overall health. It's full of whey and soy protein which means it'll leave you feeling full and satisfied and keep you going till your next meal.
If you want to shift some kilo's, look no further than The Healthy Man's Meal Replacement!
The Healthy Man Meal Replacement Shake is available in Chocolate and Vanilla and will:-
Enhance fat-burning ability
Increase stamina
Improve gut health
Increase energy, vitality and overall health
Reduce beer belly
Increase muscle strength
Get your tub of the Healthy Man Meal Replacement here
Get your hands on The Healthy Man Super Greens Powder TODAY!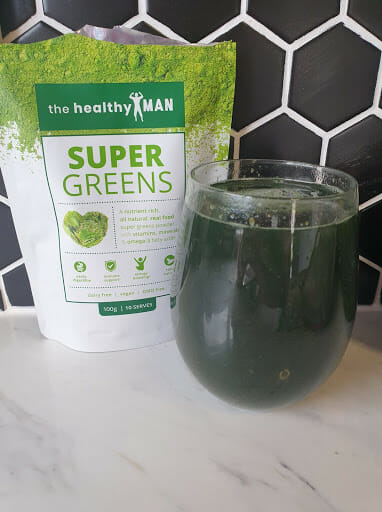 The Healthy Man Super Greens packs a massive nutritional punch containing over 37 real food and quality superfood ingredients including:
Spirulina
Flaxseed
Pea Protein
Organic Barley Grass
Chlorella
Chia
Goji Berry
Kale
Spinach
Mushroom  Powder
And much more
With all these amazing ingredients coming together in a simple powder form The Health Man Super Greens Powder will help you boost your immune system with a huge dose of Vitamin C and give you a shot of iron to boost your energy. Proudly Australian owned supplement that is vegan-friendly and GMO-free.
The perfect addition to your Healthy Man Meal Replacement or just mix it with water cause it tastes that good.
Grab your own packet of Healthy Man Super Greens Powder and get the goodness into your diet today!